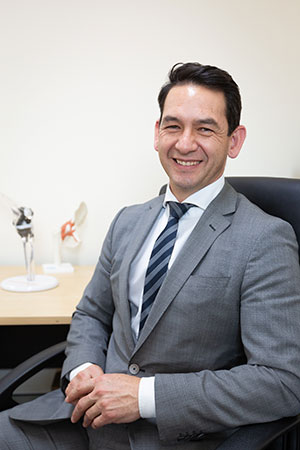 MBBS, FRACS (Ortho)
Dr. Leong completed his medical degree at the University Sydney in 1995.
His Orthopaedic training was completed on the Sydney Orthopaedic Training Scheme in 2004. During his training he completed a Masters of Surgery through the University of NSW and won the Allen Fredrick Dwyer Award for Best Research Paper.
Dr Leong undertook surgical subspecialty fellowships in surgery of the hip and knee.
Dr Leong is a consultant surgeon to the Cronulla Sharks NRL and Hononrary Orthopaedic Surgeon to the FFA (Football Federation Australia)
Qualifications:
M.B.B.S. (USyd) – Bachelor of Medicine and Bachelor of Surgery
M.S. – Master of Surgery
F.R.A.C.S. – Fellow of the Royal Australasian College of Surgeons
Registration:
Medical Board of Australia
Specialties:
Surgery Performed:
Knee arthroscopy
Cartilage Restoration Surgery (MACI)
ACL and multi-ligament reconstructions of the knee
LARS Ligament knee reconstructions
Osteotomy surgery
Resurfacing Hip Replacement
Unicompartmental Knee Replacement
Primary Joint Replacement – Knee and Hip
Revision Joint Replacement – Knee and Hip
Hip arthroscopy and femoro-acetabular impingement surgery
Professional Memberships:
Fellow of the Royal Australian College of Surgeons
Member of the Australian Society of Orthopaedic Surgeons
Associate Fellow of the Australasian Orthopaedic Association
Member of Australian Medical Association